CSC-022 The Poison Arrows - War Regards
$

8.00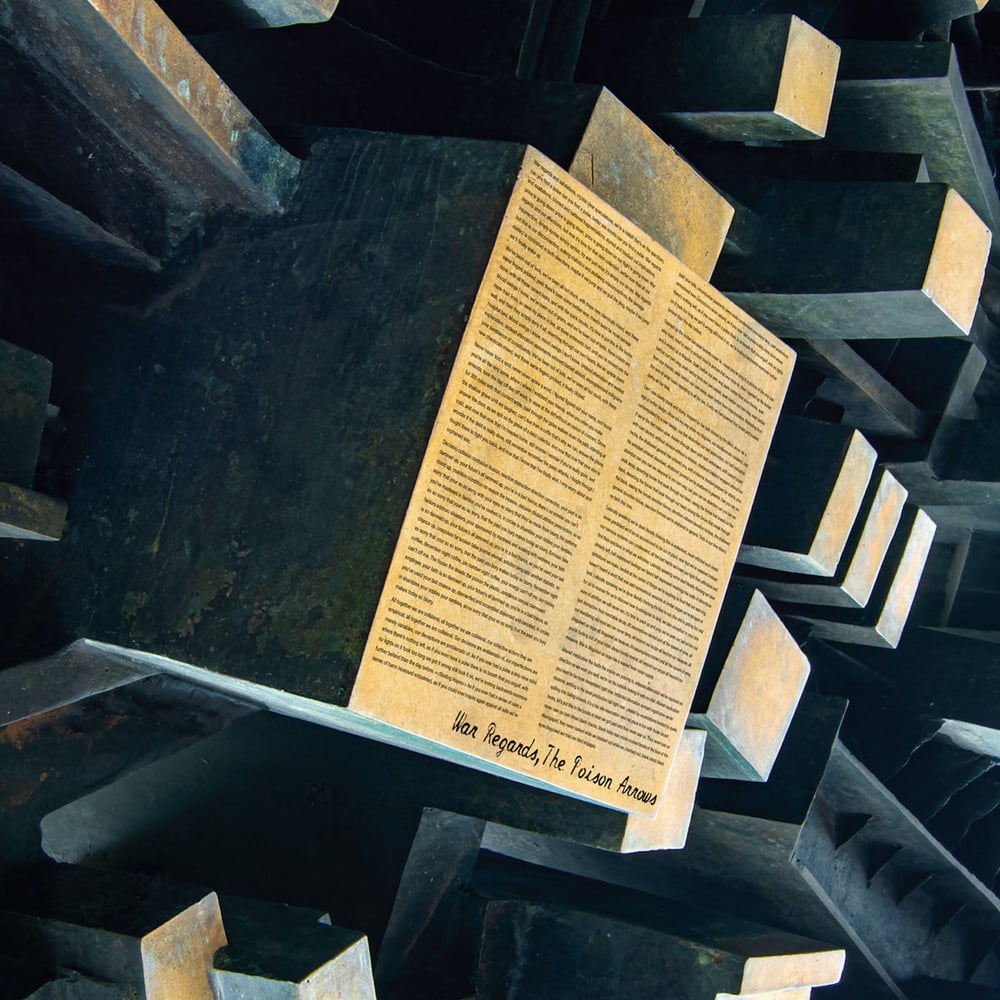 Chicago's The Poison Arrows' 4th album 'War Regards' is out worldwide February 25, 2022. It was supposed to be released in the spring of 2020 but was delayed due to the pandemic. Tours in the US and Europe were cancelled. Adam moved to Chapel Hill, North Carolina, and Justin hid out at a house in the woods of Galena, Illinois. The band is back, and just signed the lease for a new practice space and studio in Chicago. They are convening every few weeks preparing for this album release and some live shows, including two confirmed with Girls Against Boys in February.
The digital and vinyl is release number 100 (!!!) on File 13 Records. A cassette version is available from Canada's Coup Sur Coup. The album was completed with the music and some vocals recorded by Greg Norman at Electrical Audio Studio A in three days. Justin recorded the rest of his vocals at his house. Brian Deck mixed the album at his Narwhal Music Studios in two days. April Golden mastered the album in one day. The album (and first track) is named after someone emailing Justin and accidentally signing it 'War Regards' instead of 'Warm Regards.' The band found that to be hilarious and fitting in today's tumultuous times.
Despite being in a lot of bands for the last 30 years, neither bassist Patrick Morris, drummer Adam Reach, nor guitarist/vocalist Justin Sinkovich has ever recorded a 4th album with any of their other bands. 'War Regards' is true to the The Poison Arrows' recognizable form, yet is their most laser focused album to date. The song structures are succinct, and the recordings get to the point with very few extra overdubs besides a few percussion accents, and a quickly recorded second guitar to balance the left and right sides throughout the album. There is one addition, the album's one guest, rapper Sterling Hayes of Chicago's SaveMoney (Chance the Rapper, Vic Mensa, Joey Purp). Sterling went into a studio to provide his feature in the middle of track 5, "We Are Collateral." Sterling Hayes and The Poison Arrows had been seen performing this track and others live around Chicago in 2020.
Prior to The Poison Arrows getting back into playing this past year, Adam and Justin started a new project called Forever Era with Yukio Murata from My Way My Love from Tokyo, Japan. They have an album coming out in 2022. In October 2021, The Poison Arrows also released an EP called 'I Can't Quite Get Organized' featuring one new song and four remixes by Jason Noble (Shipping News, Rachels), Nyles Lannon (Film School), Jason Novak (Acucrack, Cocksure, Cold Waves Festival), and Brother El. The EP is something they put together while waiting to release this album.
2017's 'No Known Note' received a great deal of critical praise and the band has been active since its release with their first European tour, and shows in the US with bands like June of 44, Drahla, The Messthetics, Film School, Savak, and their practice space mates FACS and Matchess. All three members of The Poison Arrows also collaborated on a second Acquaintances album which also featured Jered Gummere of the Ponys and Richard Vain, Stephen Schmidt of Chino Horde and Thumbnail, as well as Chris Wilson of Titus Andronicus, Ted Leo and the Pharmacists, and Hammered Hulls. That Acquaintances album '8 ½ Lives' was released in May of 2019 with a handful of live dates.
Recorded by Greg Norman at Electrical Audio Studio A
Mixed at Narwhal Music Studios by Brian Deck
Mastered by April Golden
Art direction by David Babbitt and Adam Reach
Vinyl pressing by RTI
LP Jackets by Stoughton
High-bias cassette tape with cover and insert designed by David Babbitt.
Home Dubbed. Hand numbered. Only 30 copies available.